Nextbase 522GW Dash Cam with Alexa Enabled
Fully Fitted including the 32GB Go-Pack and Hardwire Kit.
The Nextbase 522GW is packed with extra features. Record in upgraded 1440p Quad HD, with an inbuilt polarising lens to dramatically reduce windscreen glare. A larger 3″ HD IPS screen provides the ultimate   user experience.
The 522GW is the world's first 1440p Dash Cam with Alexa, so you can voice call and message on the move. Use built-in Alexa to play music, place calls and get directions, whilst being able to talk directly to  your dash cam. You can ask to send dash cam footage straight to your phone, protect recordings and start/stop recordings – all while you keep your hands on the wheel and eyes on the road.
The Nextbase 522GW Dash Cam features Emergency SOS. In the event of an accident this can alert the emergency services to your location. The alert sends crucial medical data such as blood type and a   medical history to paramedics to aid efficient treatment.
Bluetooth 4.2 and Quick Link Wi-Fi is a brand-new feature added to automatically sync crash footage to your Bluetooth enabled phone. This allows for a quicker connection, so you can easily share footage   using the MyNextbase Connect app (Android 5 & IoS 12.1 or above)
Included With Fitting: 
Professional 'whilst you wait' installation at our headquarters in Telford includes the Dashcam and a Nextbase Go-Pack (carry case and sd-card) all professionally hardwired to your vehicle avoiding unsightly cables. We will even put the kettle on whilst you wait!
The Go Pack includes a high speed 32GB U3 micro SD card to record approximately four hours of footage on your Dash Cam before looping over, or two hours when using a Rear Cam Module. With a read speed up to 100MB/s and write speed of 60 MB/s, the MicroSD card provides you with enough capacity to capture any incident and ensure you have the evidence you need. An SD card adapter is also included, allowing you to easily transfer footage onto your PC/Mac. Protect your Dash Cam when not in use with the Nextbase Carry Case. It uses a neoprene material and soft surface to provide your Dash with greater protection from dust and scratches.  The Carry Case it designed to fit all Nextbase Dash Cams, excluding the Duo HD and Mirror models.
The Nextbase Dash Cam Hardwire Kit offers a simple 'plug and play' solution to hardwire in any Nextbase Dash Cam. It contains all the components to 'piggyback' from a fuse box for vehicles with either standard ATO/C or smaller ATM (mini) fuses. This provides the Dash Cam with its own power supply, eliminating the need to use the 12V outlet (car cigarette socket). It includes a 90° connector for an easier connection, as well as an LED indicator light to show when the Dash Cam is connected and power is available.
Dash cam features:
1440p forward facing camera with 1440 megapixels and a viewing angle of 140°.
3 inch touchscreen HD IPS Screen
Photo mode.
Night vision.
Loop recording.
G-force sensor.
Auto start with vehicle.
GPS.
Parking mode.
Voice command and control.
Connect through Bluetooth smartphone via Wi-Fi.
Compatible with microSDHC memory cards.
Compatible with the Nextbase Rear Camera Modules: Nextbase Cabin View and Rear Window Camera.
Other features include:
EMERGENCY SOS
In the event of an incident where the driver is unresponsive, Nextbase Emergency SOS can alert the emergency service of your location and other details.
The emergency alert that is sent to the integrator and emergency services includes GPS location and heading as standard, but also other personal details such as medical history, blood type and allergies.
ALEXA
The world's first 1440p Dash Cam with Alexa built-in. You can use Alexa to play music, place calls, listen to audiobooks, hear the news, check the weather, control smart home devices, get directions, find parking, and more – all while you keep your hands on the wheel and eyes on the road.
NEXTBASE AUTOSYNC
Using Blutetooth 4.2 Low Energy technology and Wi-Fi connectivity, your latest video files can easily be sent to your smartphone or tablet.
By automatically recording two video files (High and Low resolution) you can easily view the videos quickly whilst having full high quality available to download if you need to zoom in on number plate detail.    Once on your phone, it is quick and easy to edit and share your footage straight to your insurer using the MyNextbase Connect App on Android and iOS.
MYNEXTBASE
Play, edit and share your Dash Cam footage on PC or Mac, using the newly developed playback software, MyNextbase Player.
Developed in-house to provide a fully enhanced experience, includes an updated Google Maps feature, speed and G Sensor readings to display all important information that can be passed onto an insurance provider.
MyNextbase Player Mode includes the functionality to play side-by-side footage (front-facing and rear-facing). Sharing footage has never been easier, you can send important footage to your insurance provider, as well as onto various social media platforms including the Nextbase server.
INTELLIGENT PARKING MODE
Intelligent Parking Mode records any bump or physical movement on the vehicle when left unattended.
As soon as you park and your ignition is turned off, the Dash Cam will automatically switch into "parking mode" by shutting down everything except the G Force sensor.
If your car is bumped and the G Force sensor registers movement then the dash cam will automatically turn on, record for 3 minutes and then shut down again.
General information
Magnetic mount.
USB cable.
Up to 0.5 hour battery life.
Size H5.5, W9.7, D4.8cm.
Weighs 125g.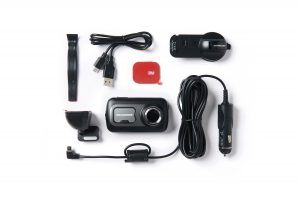 EAN: 5060384255705.
Please note, all of our reverse camera fittings take place at our premises during our opening hours Monday-Friday. Upon purchasing be sure to leave your contact number and preferred installation date and a member of the team will contact you to confirm the booking.