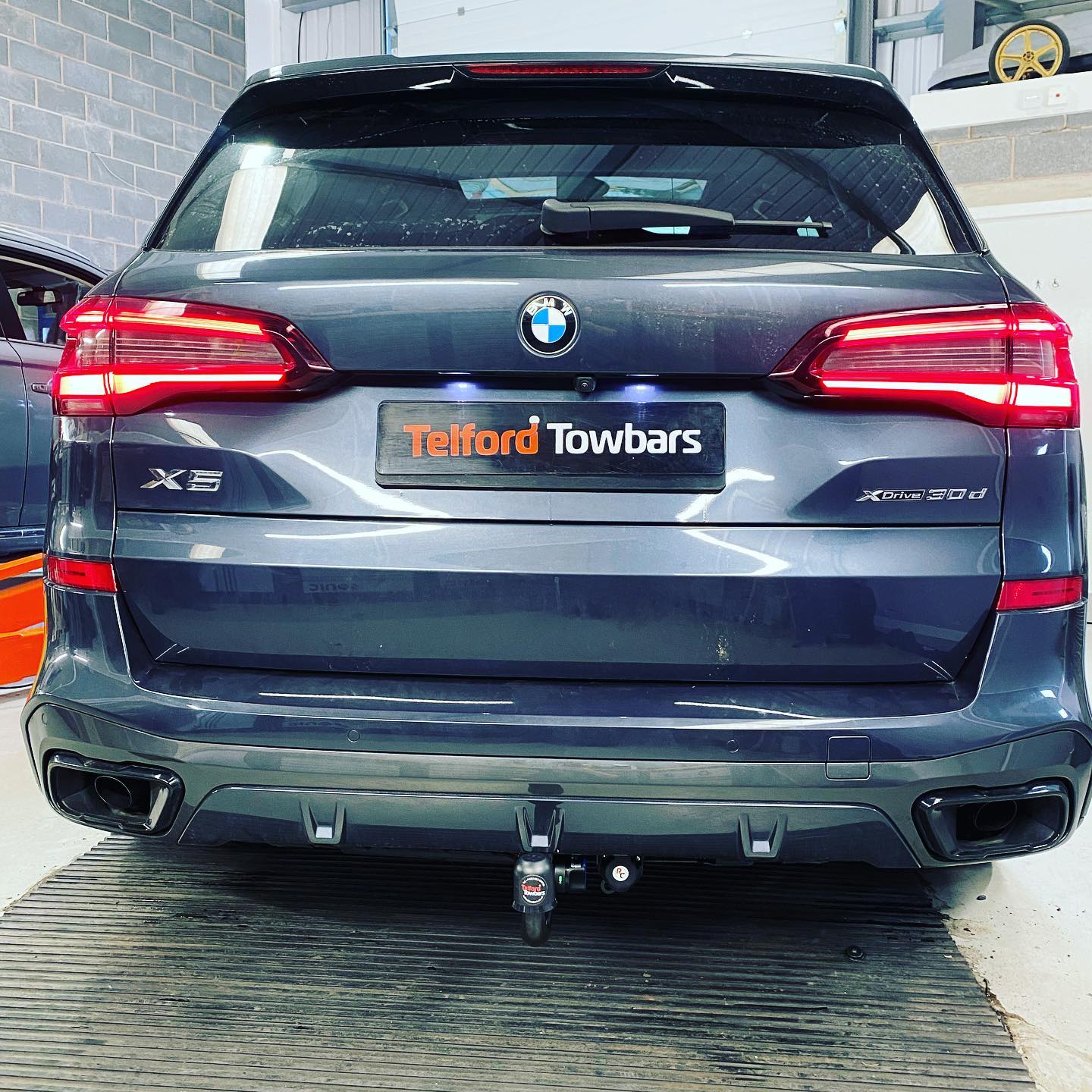 BMW X5 Towbar wiring electrics 7 & 13 pin
Many manufacturer's have designed their vehicles similarly to a computer in the way they deliver all the signals around the vehicle. These digital signals interact with one another and each item of hardware is able to communicate with each other. For example, if the correct electrics are installed, the operating system of the vehicle will recognise the presence of this module and 'change' the way the vehicle operates. Likewise, when the trailer plug is connected, the vehicle will 'detect' this and open up a communication process. This vehicle network system is known as CAN bus (Controlled Area Network). NOTE! This 'detection' process will only operate if special towing electrics are installed. The 'Universal electrics by-pass relay' will NOT allow this detection to take place. All of our wiring kits are vehicle specific and not the 'Universal electrics by-pass relay' We at Telford Towbars cannot emphasize enough that it is VITALLY IMPORTANT your vehicle is installed with towing electrical equipment that operates in the way the manufacturer intended. Listed below are a number of reasons why this is a requirement: Manufacturer has trailer related safety systems which will only function with a specific solution Manufacturer does not permit by-pass systems (see owner handbooks for VW) There is a prepared trailer point in the vehicle delivering CANbus signals (Ford, Volvo etc) Effective monitoring of one or all bulbs for failure lamps on the trailer Use of soldering on lighting harness is forbidden (VW, Audi, Skoda & Seat) NEW law becoming formulated to examine the correct activation of vehicle safety systems In regard to the last statement above, There are changes in the law as to what electrical systems are encouraged and/or discouraged in respect of installation.  There is currently a new Type Approval document which deals with components installation and how they perform in regard to vehicle safety systems.  This document is know as 2007/46/EC. Please click this 
link here
 and in particular, the words in paragraph 14. The alternative to specific electrics is the use of universal electrics which really means using a relay commonly called a 'by-pass' relay. This is usually joined onto the lighting wires of the car using either solder with PVC tape or crimp connectors.  Neither of these are truly satisfactory connections especially in view of details listed above.
BMW X5 Towbar wiring electrics 7 & 13 pin
No products were found matching your selection.