Description
Complete Diagnostics provides mobile technicians and workshops with the solution for easy programming and coding of vehicle control units after replacement or retrofitting trailer couplings or other accessories as required.
No subscriptions or update fees, just pay for what service you need.
Here at Complete Diagnostics we use many different systems to ensure that any coding needed to be done on your vehicle is completed without having to take the vehicle to a main dealer maximising efficiency, productivity and customer satisfaction
Using live technicians and a wealth of knowledge we connect to vehicles remotely using our interfaces via our app/web portal with a Wi-Fi or 4G connection and take control of the vehicle, completing the service requested.
Commonly requested services include*-
Towbar coding
Speed limiter setting
Backup Camera Coding
Fault code report
Key programming
Module replacements
DPF/AdBlue resets
And much much more!
*available services can vary between different vehicles/years – please get in touch for more info.
Connect the tool to the vehicles OBD port and to the Android device (Complete Diagnostics Original) or the web portal (Complete Diagnostics FD) and login with your account details.
Vehicle identification will start, check the details are correct and proceed to the list of services we offer for that vehicle. Select the service required and continue to the summary screen, check details and press Launch/Create.
The vehicle will now be connected to one of our technicians who will perform the service requested whilst you continue to work, just make sure that you check back frequently should the technician need to communicate any further instructions such as ignition on/off or to open the bonnet etc. Finally the technician will tell you on the chat that the service has been completed and for you to test functionality.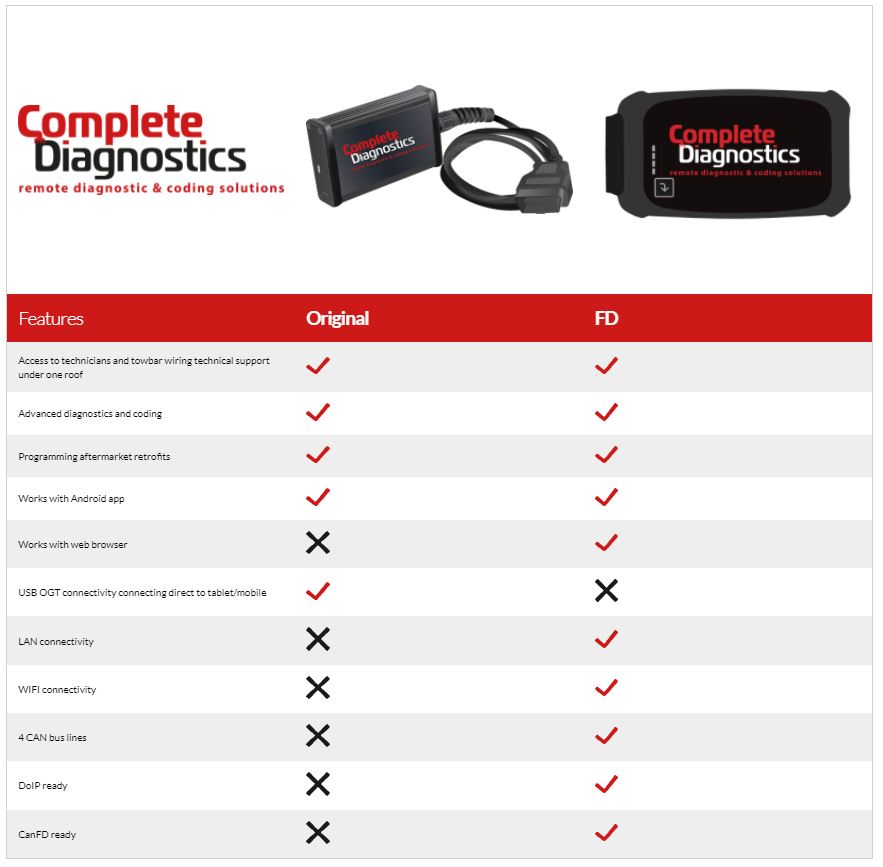 Benefits of Complete Diagnostics
Easy to use
Connect to the car and to the Android device(Complete Diagnostics Original) or to the web portal (Complete Diagnostics FD) identify the vehicle, select the service to be performed and using the chat feature answer any requests our technicians will have and we will complete the service whilst you continue working!
Stress free updates
All updates are taken care of here at our headquarters, any updates to your tool are done automatically when connected in seconds! Our cloud takes care of software updates as and when they happen, you just plug in and we do the rest!
Live chat
Use the chat function within the app or browser for live chat with our experienced technicians helping you get the vehicles completed and keeping your customers happy.
Setup
Upon purchasing we will need to setup your coding account on a pay per use basis – no subscriptions needed! A member of the team will contact you to continue the setup process.
Trade enquiries also welcome – just click the tool below